Yesterday the Green Film Making Project arrived at the 67th Cannes Film Festival. We presented our project at the Dutch pavilion and met green filmmaking enthusiasts from all over the world. We connected to fellow filmmakers from Sweden, the UK, Germany and Italy. It's inspiring to see that a growing number of countries are developing ways to work more sustainably in film.
Amongst others Melanie Dicks (Greenshoot, UK), Helena Sandermark (EkoTegel, Sweden) and Pietro Reggiani (Producers Network, Italy) were present and contributed to the conversation about how to take the film industry into the future. We'll update you soon on our findings!
Also, the cast of 'The Expendables 3' organized a
press presentation in big army tanks across the streets of Cannes. We made sure that our 'I am a green film maker' sticker was one of the tanks with Sylvester Stallone on it and waved at Harrison Ford, Arnold Schwarzenegger, Wesley Snipes, Mel Gibson and Antonio Banderas.
Check out the result in a short video here!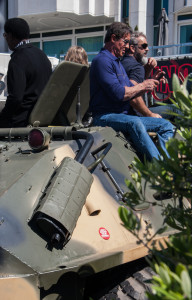 Picture: Dorien
Today (Monday May 19th) we'll also connect visitors to the latest sustainable innovations in the film industry! Happen to be around in Cannes? Please join us for a presentation and Q&A at the Dutch pavilion (4:30 – 5:00 PM, Village International #116). Next to that we'll visit other international filmmakers and discuss how to team up in the future of green filmmaking.